(click here for better viewing on your browser)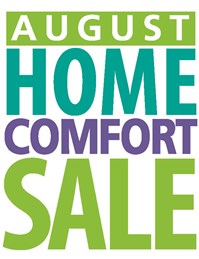 Don't miss our Summer Sale!
Hundreds of markdowns in all Departments for Extra Savings!
Plus, Get 12 Months No Interest Financing, or an extra cash discount.
Save up to $700 Now during our "Sleep Cooler" Sale

and enjoy our best mattresses from Serta, Beautyrest, and Tempurpedic for a cool, comfortable and restful nights sleep.
Brighten Up Your Home
Five Summer Décor Tips for Your Home
We've curated a list of design tips that can fit multiple budgets and time frames. Whether you just want to change the look of one of your rooms or commit to a comprehensive seasonal overhaul, you're bound to find these pointers helpful.
1. Buy Light-Colored or Bright Colored Accent Pieces
Most people don't want to purchase brand new furniture sets every three months, but you can change the look of a room with a single piece of furniture. Adding white or light-colored neutral accent pieces can brighten the room's overall look.
2. Swap Out Your Accessories
One of the least expensive and rewarding ways to alter the look of a room is by changing the accessories. Swapping out the artwork, drapes, pillows, throws, lampshades, and area rugs (more on this later), you can create a summer or fall seasonal look for any room in your home.
3. Paint the Room
Painting is one of those lower-cost improvements that can give you a huge bang for your buck. A quick internet search for summer color palettes will yield dozens of paint options for you to choose from, but you also can't go wrong with white, cream, pale yellow, or a nice light blue. If your room currently has darker walls that you love, leave one of them as an accent wall and paint the others white or a lighter complementary color. That will also save you a little work and expense.
4. Green the Room With Indoor Plants
"Friluftsliv" is the Norwegian word for embracing the outdoors, and the concept has sparked an interior design trend that aims to bring the outside in. Real and faux foliage are both fantastic decorating accessories. Not only do they provide endless color, shape, and size options, but they also give you a chance to accessorize with pots and vases, which also have numerous style options.
If you are going to use living plants, research the best indoor plants for the lighting conditions of your space or consult your local nursery. Or, for the look, but without the watering and labor, check out our selection of permanent plants to soften your decor.
5. Change up your area rugs
We mentioned deploying brightly colored area rugs to summer your space, but there's another way you can use an area rug to make your room look lighter and summer-ready: by rolling them up and storing them.
If you have a darker area rug covering a significant portion of a lighter color floor, you may achieve your summer decorating goal by putting it away until September.
Conversely, if your floors happen to be darker, you can always make them lighter by laying down a rug that matches your summer color palette and your furniture. Use non-slip pads to keep your furniture from sliding.
About Us
|
Room Planner
| Contact Us |
Financing

To Un-Subscribe from our Newsletter Click Here
Copyright © 2021 by Blackledge Furniture