What's New For Your Home

This Spring?
Here are some of the new design trends we saw at the recent Winter Home Furnishings Market that you will be seeing in our inventory this spring and many
of these looks are already in stock. So while we are waiting for the weather to get better, come in and look at how you can brighten up your home and take advantage of February Home Sale special financing and cash discounts.

Don't forget to come in and register for our Heart's Desire Contest to win up to $1000 of Free Furniture for your home!*
Save an extra 10% during our Flex-steel Factory Authorized Sale on in-stock or custom order Sofas, Sectionals, Chairs, and Reclining Furniture through February 15th.
Get extra savings on new markdowns and special purchases, Plus up to 24 Months Free Financing or an extra 4% Cash Discount during February.**
2023 Style and Color Trends
Color inspirations:
Much of the color inspiration for 2023 continues to be drawn from nature, helping to make your home feel comfortable & natural. We want our homes to connect to the outdoors, so it's natural that the green colors are strong. From lime greens to emerald, greens are becoming more common in fabrics, wall colors and area rugs.
Navy also remains a popular color as it has for the past few years and is moving to replace the gray that have been so popular the last few years. Different tones of gray are also appearing, moving to deeper tones that add a more sophisticated look.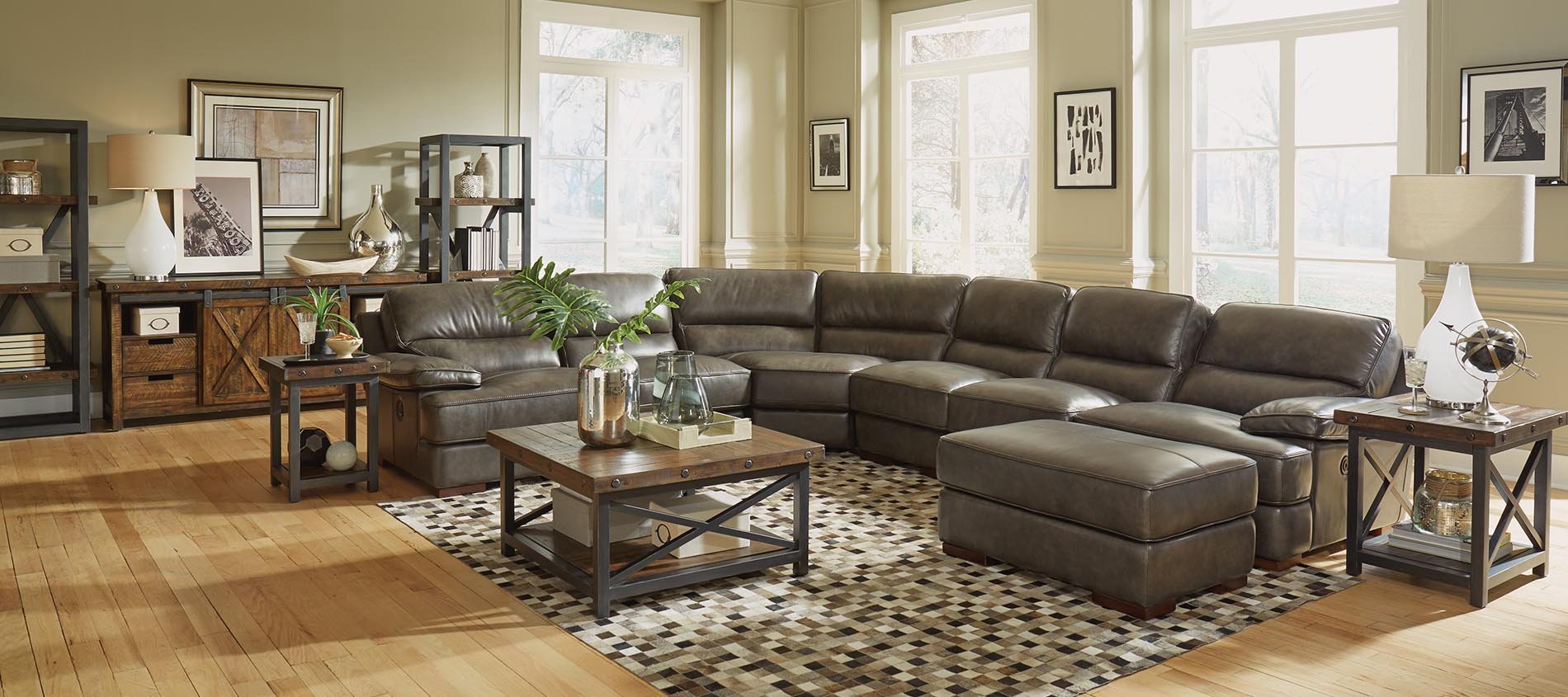 Rustic looks are still going strong:
It was thought there would be more movement away from rustic to more modern minimalist designs, but that doesn't seem to be the case yet. The rustic look is still here and going strong after many years with natural materials only growing stronger. So look for rustic wood finishes to be all the rage in 2023. The country cottage feel is also still increasing in popularity. A vintage explorer look (think globes & exposed light bulbs) goes well with rustic furniture looks too and we have lots of accessories to go with it. Rustic leather sofas and chairs in many natural tones add to the look and add comfort and warmth to any room. Leather prices have come down making leather both a long lasting and affordable choice. Come in and look at some of the new leather specials.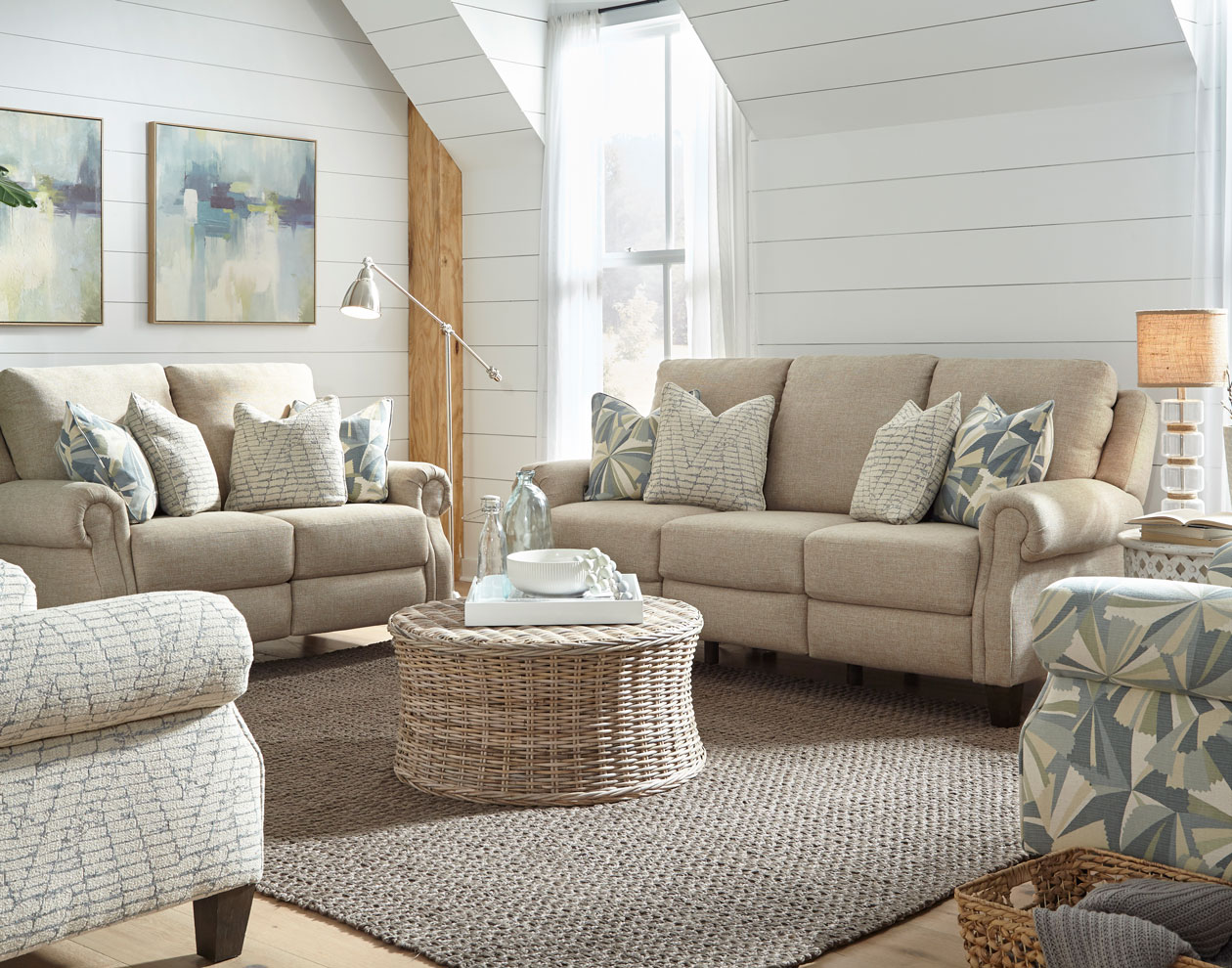 It's all about texture:
2023 will be about texture – all about mixing fabrics & materials. Texture & faux natural materials are certainly in, and being combine in endless ways. Many of the new textures are in stain resistant high performance fabrics making neutrals and lighter colors more practical in the home. Texture makes an interior more inviting & we're seeing faux textures added for a luxurious inviting look that makes homes warm and comfortable. Mixed together in endless variations are deep sofas, oversized pieces, chunky rugs & ottomans but always presented with more of an artistic flavor.
A few other trends of note:
Tropical prints – like you've been seeing in fashion magazines – make great home accents or patterns for throw pillows on a plain sofa. Geometrics abound with simple lines & triangles. The indoor-outdoor trend continues with more vendors offering indoor- outdoor furniture with better style, function, and comfort.
Our Suggestion…
Add a few of these elements into your home to freshen things up. But remember that there is only one trend or style that really matters – and that's your own, and our design trained staff can help you express it the way you want to. Don't obsess about style trends, but come in and take a look at all the new styles. Let us help you fill your home with things that bring you pleasure for years to come.
**24 month free financing or a 4% cash at purchase discount is available on purchases over $2997 made February 1 - 28 2023, with approved credit. 12 Month Free financing or 2% cash discount is also available for

purchases over $997. Minimum monthly payments are required on financed amounts and interest does accrue monthly, but is rebated if the account is paid in full as agreed by the end of the free period. No down payment is needed on in stock purchases and only a 20% down payment is needed on special orders.